SAUNI scheme Yojana Gujarat
During a gathering in Rajkot on 20th August the Chief Minister of Gujarat, Vijay Rupani, announced that 10 dams of the Saurashtra region will be filled with water from Narmada under the SAUNI Yojana. This is a special yojana that will be inaugurated by the Prime Minister of India.
Many parts of the Saurashtra has been suffering from water scarcity which has been a major worry of the people in the Saurashtra area. But thenRupani announced in the gathering that on the 30th of August, Modi will be inaugurating the SAUNI yojana that will lead to the overflowing of the 10 dams in the region.
Saurastra Narmada Avtaran Irrigation or SAUNI Yojana is a special dedicated water and irrigation scheme that will be launched by the Prime Minster in Gujarat
| | |
| --- | --- |
| Number of districts benefited under SAUNI yojana | 7 Districts of Saurashtra |
| Number of Irrigation Dams about to filled with Naramda water | 115 Irrigation Dams |
| Total Cost of the Yojana | 10,000 Crore |
| Number of Villages going to get Narmada water | More than 900 villages across saurashtra |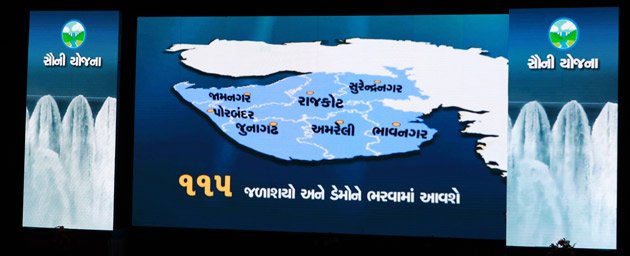 Goal of the scheme
Even though there has been some amount of rain in most parts of the Gujrat State, there are still some places in the State that are suffering without water. The main goal of the scheme will be to get rid of the water scarcity in these regions and to provide them with enough water for irrigation and domestic needs.
This year Gujarat has said to receive 57% of its Long Period Average rainfall with a measure of 797mm. But then there are certain regions or districts in Saurastra that are still facing a deficit in rainfall of up to 68%. The districts include Botad, Rajkot, Morbi, Botad and Surendranagar.
About the scheme
On the 30th August the first phase of the scheme will be inaugurated at the dam Aji 3. Currently the Aji-3 dam has around 52% filling. The dams will be filled with the Narmada water which will help the people of the region.
Reports show that the Saurashtra region currently has 138 schemes. Out of these 115 dams of the area will be filled by the Narmada water under the Yojana. The overflowing water of the Narmada is sent to different reservoirs, through network of canals, to the 11 districts of the Saurashtra region. There are a total of 1126 kilometers long four pipeline that help in the distributions of water.
It has been announced that under the first phase of the scheme, the Machhu-II dam of the Morbi district will connect 30 dams in the following regions- Morbi, Jamnagar, Rajkot and DevbhoomiDwarka.
All the dams will be filled by the overflowing water of Narmada and this will benefit around 2.02 lakh acres of land and all the people living there.
Other Articles
Free Coaching to Minority Students