Online Appointment and Medical Report Facility in Government Hospitals 
Online facilities in medical field are not a new concept today. A many of the private medical labs and hospitals provide online medical facilities like appointments, test reports and so on. But unfortunately these facilities are restricted to specific urban areas only. In a recent event the Minister of State has declared about an online portal exclusive for medical facilities provided to the general public. In this portal now people can book appointments and also can view their medical test reports.
| | |
| --- | --- |
| Project | Online Medical Report Facility |
| Level | State |
| Announced By | Health and Family Welfare (State Ministry) |
| Where | India |
| Areas covered | Bangalore, Chandigarh, Delhi |
| Portal | http://ors.gov.in/copp/welcome.jsp |
| Hospitals | AIIMS, RML, NIMHANS, PGIMER |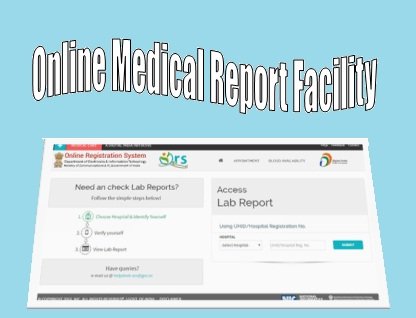 Which Hospital & Area are giving this facility?
According to the plan total 43 hospitals are being listed under this project and the scheme was implemented in those 43 leading hospitals. But in a latest report it has been seen that only 4 renowned hospitals are actively taking part in this project.
The hospitals which are listed under the project were: NIMHANS in Bangalore, PGIMER in Chandigarh, AIIMS and RML in New Delhi. In these areas only these 4 hospitals are actively working with this portal. Others are still under the process.
How to book Online Appointment in Government Hospitals
The official portal or website for this facility is: http://ors.gov.in/copp/welcome.jsp. One can click on the link and book an appointment under the 'appointment' tab. Also if one needs to see the reports can click on the 'lab report' tab and follow the instruction.
What is Online Medical Report Facility?
Online Medical Report Facility is an initiative taken by the state health ministry to provide information about the medical reports of the patient online. The state government has started an exclusive online medical portal for the patients across the nation.
Under this portal one can book an appointment and choose their desirable hospital where they are wished to go for their tests. Once the tests are done, the reports will be uploaded to the portal by the hospital authority. After putting up some initial details about the patient, the reports will be shown in the portal by the patient or patient party.
How to Get Our Report Online for Government Hospital?
To get the reports online one needs to follow few easy steps.
Step 1: click on the official website link http://ors.gov.in/copp/welcome.jsp
Step 2: click on the 'appointment' tab in the right side of the screen if you want to book an appointment or click on the 'Blood Reports' tab for seeing your report.
Step 3: Choose your hospital and identify yourself with Aadhaar number.
Step 4: Verify yourself by following instruction
Step 5: view your reports.
Other Facility under this Project
The portal is created not only to provide medical reports online facility but it also offers other facilities like appointments. The patient can book an appointment for the test in his/her desirable hospitals.
Apart from appointments the patients can also get the information of the blood availability under various hospitals. This is one such easy way to look for blood in emergency. To know about the blood availability, enter the state name and get details of blood status.
Patients can find contact details of these 43 hospitals to book appointments or for other queries like blood availability and such. The project is active in district level as well.
Other Articles