Free bus pass scheme for school students in Tamil Nadu | Apply | Details
Tamil Nadu government always gives more attention to make everything easy when it comes to the child's education, on proving that fact state chief Minister J. Jayalalitha in recent past announced Free Bus Pass Scheme for all school going child. This scheme is very helpful to the school going students who are in between 6-14 years of age group. They can use the government transportation facilities for free to easily reach the school without spending money for the bus fares.
Description of free bus pass scheme in Tamil Nadu:
The free bus pass scheme for the school students has been launched by the current Tamil Nadu government by the mutual effort of the State Education Department. Under this scheme, a smart cart will be issued for all government buses which are active and functional in all districts of the state. There are no special eligibility criteria for applying this bus pass scheme. All the students who are all pursuing 1st standard to 8th standard will be eligible to apply for this bus pass to facilitate free travel by bus. This smart card is actually valid up to December 31, 2020.
| | | |
| --- | --- | --- |
| 1 | Scheme Name | Free Bus Pass Scheme |
| 2 | Scheme Launched by | Current Chief Minister of Tamil Nadu. J. Jayalalitha |
| 3 | Date of Launch | 18th July 2016 |
| 4 | Validity | 5 years |
| 5 | Eligible Students | From Primary to Middle Schools |
| 6 | Departments Chosen for this Scheme | School Education Department |
| 7 | District Covered | All Districts of Entire Tamil Nadu |
| 8 | Aim | To provide free transportation service for school going children |
| 9 | Sponsorship | Tamil Nadu State Government |
| 10 | Responsible Person to approach | Respective School Principal or Head master |
| 11 | Estimated Total Budget | Around Rs. 504 Cr |
| 12 | Who can travel with this free bus pass card | Only Students while going to schools |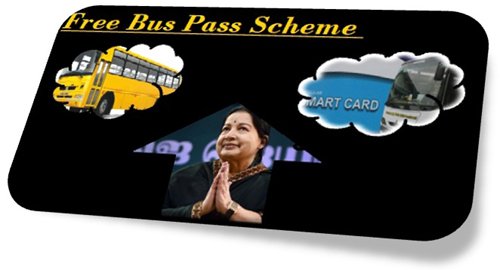 Smart cards for school students:
In order to make the transportation fares bearable for all school students, Tamil Nadu CM released this new free bus pass scheme with the smart cards. Under this scheme, the students will also get the individual smart cards. This free bus pass scheme is not only for the government school students but also for the private school students in the TN state. The students have to bring their smart card everyday to travel for free from home to school and return to home. These free bus pass smart cards are only acceptable in the state corporation buses. It is highly beneficial to the students who are living in the rural areas and need to travel more distance to reach the schools. This free bus pass scheme is not only useful to cut down the student's transportation fee but also make their travel timely and safely.
How to apply for TN free bus pass scheme:
If school students want to make use of this free bus pass scheme of the Tamil Nadu government, they have to follow these simple steps.
First of all, the students have to sign up for getting free bus passes by just applying to their school head masters or principals.
The parents should need to submit written application with the attachment of a passport size photo of their child and current address proof.
With the fast process, students will immediately get their free bus pass smart card which has 5 years of validation. This free bus pass scheme is not only for the school students and also for the students studying in Government Arts and Science colleges, polytechnic colleges, and Industrial training institutes to get free bus travel to easily reach college.
Tami Nadu government has been decided to spend about 504.31 core rupees for this free bus pass scheme. Under this free bus pass scheme, 31.11 lakh students from the poor background will be beneficiaries to get the free transportation facilities to make their education easy and bearable at all.
Other Articles