Stand up India Loan Scheme in Hindi/English – pdf | Apply | Eligibility
Stand up India Scheme, targeted towards the uplift of SCs, STs and women entrepreneurs, will be officially launched on this coming Tuesday of  April, 2016, by the Prime Minister Narendra Modi at Sector 62, NOIDA. The launch of Stand up India scheme would be elegant which includes ministers like Finance, Culture and Tourism along with the Governor UP.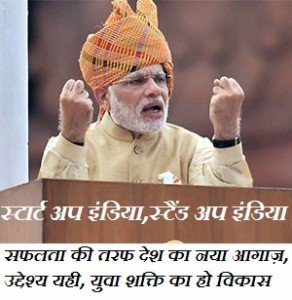 Stand Up India – A Brief View
The Stand up India scheme is primarily aimed at promoting the entrepreneurship among the SCs, STs and women by providing finances to them from Rs. 10 Lakhs to Rs. 100 Lakhs, in their establishing new businesses. The scheme is supposed to benefit the maximum number of people who are entrepreneurs of SCs and STs.
Unlike other schemes to boost Indian economy status, this Prime Minister's "Stand up India" scheme has a strong motive behind as to make India as a developed nation by 2022. As an initial step Indian government started this wonder scheme with help several private bodies including internet giant GOOGLE and Life Insurance Corporation of India which will play a huge role on developing newly Start Up enterprises under this scheme.
How to Apply/enroll for Stand Up India Scheme
All the entrepreneurs who are either women or members of the Scheduled Caste (SC) and Scheduled tribes community who want to enroll themselves in the Stand Up India Scheme will have to wait for its official launch. It is expected to be launched in late April or early May.
Form fill up for the Stand Up India scheme will be started very soon. According to sources of the SIDBI, the Govt. has decided to put up Stand Up Connect Centres (SUCC) which will be the offices of the NABARD and SIDBI. Beneficiaries will have to visit these SUCCs to enrollment. Also a web portal for the Stand Up India project is going to be launched soon.
Stand Up India Eligibility
Stand Up India, an initiative to encourage new business ideas, has a number of eligibility criteria that one must follow before applying for the scheme.
The key eligibility criteria of the scheme are
Applicant must be a member of SC, ST and OBC community. Woman candidates, especially widows can also apply.

The company must be a registered LLP, Partnership or individual entity

The age of the company must not exceed 5 years

The product must be related to commercialisation

Annual turnover must be less or equal to 25 crores

Certification from DIPP
Quick view
| | |
| --- | --- |
| Applicants | SC, ST, Women |
| Nature | Commercialisation of products |
| Company | Individual, LLP, partnership |
| Age | Max 5 years |
| Max Turn over | 25 crores |
| Other | DIPP certifications |
Main things which one needs to know about Start up India Stand up India Loan Scheme:
| | | |
| --- | --- | --- |
| S.No | Question | Answer |
| 1 | What is Stand Up India Scheme? | It's a scheme about to be Implementing by Indian Government, In order to help Indian citizens in financially to whom who are willing to start business by implementing their new ideas. Because of that our nation would became better economy. This Scheme will encourage entrepreneurship. PM Modi Ji addressed the nation on last Independence day 15th Aug 2015 about launching "Start Up India Stand Up India" which is now going to be implemented |
| 2 | What's the Main Purpose of Introducing this Scheme? | The main motive behind this scheme is to boost Entrepreneurship idea among the peoples from Non-Farm Sectors especially over the SC, ST, and Women |
| 3 | How much one can get financial aid from this scheme? | For businesses which are going to located in INDIA with annual turnover lesser than 25 Crores, can be funded with the range started from 10 Lakh to 100 Lakh |
| 4 | When Stand Up India Scheme Going to be Launched? | The launch will be done by the Prime Minister Narendra Modi ji on April 5th of 2016, along with several other ministers including UP Governor. |
| 5 | How to Register in this Stand Up India Scheme? | A separate Web Based Application going to be launched on 05th April 2016 by our honourable Prime Minister Narendra Modi where one can able to register and get more information. For More details visit: http://www.startup-india.org |
Key features and Eligibility Criteria of the Stand Up India Loan Scheme
The entrepreneurs will be given a debit card called, RuPay, for their withdrawals of working capital.

Other than facilitating loan, entrepreneurs can avail several support service like training, marketing and so under this Stand up India

Refinance window will be available, initially set up with a corpus of Rs. 10,000 Crore through SIDBI.

Credit guarantee will be set up with a corpus of Rs. 5,000 Crore, through NCGTC.

A separate web portal for the purpose of serving loan seekers with their online registrations and other support services.

A detailed credit history of all the borrowers will be developed.
Vision of Stand up India Loan Scheme
The main intent of the scheme is to offer the strategic advantage gained with institutional credit structure to these underserved sections of the society in SC, ST and women borrowers. The proposed scheme is also developed to gain synergies with the other such schemes in-action of different departments.
The scheme also establishes a charging and service station for facilitating the growth and emergence of small and micro enterprises and also in creating many opportunities for the entrepreneurs.
Stand up India Loan Scheme Vs Pradhan Mantri Mudra Yojana scheme
The Stand up India scheme is about to launch under the root of Pradhan Mantri Mudra Yojana scheme. The important factor which everyone must be aware of this scheme is "The entire scheme will be act as a hub, where all process will be carried under single point of contact. Owning to this knowledge sharing and availing proper assistance from the relevant experts would be so easy apart from receiving funds"
The young entrepreneurs need not to be rushing anywhere for registering under this Start up Stand up India scheme, the mobile application which will be launch by our Prime Minister in next few days will be open to registration for all. Also the biggest benefit for the entrepreneurs and webpreneurs under this scheme is their businesses earnings are free from TAX for the initial period of 3 years.
Start Up India Loan Scheme in SBI (Interest Rate and Application Form)
SBI will again be the biggest Partner affiliate for this ambitious Modi scheme.  SBi have not rolled out any specific application for for this particular scheme. but it seems Mudra Loan for could well be used for the same. Interest rate of Stand up india scheme in sbi would be around 1% per month.
Once again Prime Minister of India Mr. Narendra Modi done it again by implementing the Start up Stand up India scheme as he announced in the last independence day speech on 15 Aug 2015.  This Start up Stand up India Scheme will be a fruitful thing for young entrepreneurs and webpreneurs of India who seeking perfect place to showcase their ideas.
Though, Start up Stand up India scheme believed as strong factor for making India as a developed in near future. There are few things which raise worries like whether it's possible to get such required skill set among the fresher's? Since the nation's educational quality was always comes under scanner every now and then. Also the campaign "Skill India" is under progress all over the nation in order to improve skills among Indian youths. So it will hard to match the required organizational skills among the fresher graduates, as per the view of some national experts.
Stand Up India Loan Scheme in Hindi PDF
प्रधानमंत्री नरेन्द्र मोदी द्वारा 05 अप्रैल 2016 को स्टैंड अप इंडिया का विमोचन नोयडा में किया जा रहा हैं इस योजना के साथ स्टैंड अप इंडिया वेब पोर्टल का भी विमोचन किया जायेगा .
यह स्टैंड अप इंडिया योजना का मुख्य उद्देश्य अनुसूचित जाति / अनुसूचित जनजाति और महिलाओं के बीच उद्यमशीलता को बढ़ावा देना हैं जिसके लिए वे इस योजना के अंतर्गत 10 लाख से 100 लाख तक का ऋण ले सकते हैं.यह योजना एक बड़े क्षेत्र को लाभान्वित करने के उद्देश्य से लायी जा रही हैं .
स्टैंड अप इंडिया के मुख्य बिंदु :
समग्र ऋण 10 लाख से 100 लाख के बीच होगा जो कि नए उद्द्योग को स्थापित करने में सहायक होगा .

डेबिट कार्ड (रुपये कार्ड) का उपयोग किया जायेगा .

व्यक्ति के ऋण का समस्त ब्यौरा रखा जायेगा .

कोष के निर्माण के लिए NCGCT द्वारा 5,000 करोड़ रुपये की क्रेडिट गारंटी दी जा रही हैं .

वेब पोर्टल की सुविधा दी जा रही हैं जिसके तहत योजना का हिस्सा बनने के साथ- साथ अन्य सहायता भी दी जायेगी .
इस योजना का मुख्य उद्देश्य अनुसूचित जाति / अनुसूचित जनजाति और महिलाओं के बीच उद्यमशीलता को बढ़ावा देना हैं जिसके तहत उन्हें नया कार्य शुरू करने के लिए क्रेडिट लोन फेसिलिटी दी जा रही हैं . इस योजना के बारे प्रधानमंत्री नरेन्द्र मोदी जी ने विगत कई समय से अपने वक्तव्य में जिक्र किया हैं जिसके द्वारा वे देश में उद्दमियता का स्तर बढ़ाना चाहते हैं जिसके लिए उन्होंने अनुसूचित जाति / अनुसूचित जनजाति और महिलाओं का ध्यान इस और बढ़ाने के लिए स्टैंड अप इंडिया का निर्माण किया ताकि वे रोजगार के दायरे से बाहर निकल कर उद्यामियता के क्षेत्र में आये और अन्य के लिए रोजगार के अवसरों का निर्माण करें .
Start up India Hub – Coverage, Eligibility, Tax benefits
Start up India Hub was recently launched for the emerging entrepreneurs in India. It has been seen that a many start ups have gone under the vain even before starting up their journey. The number of failure of start ups is much bigger than the number of successful names in India. Surveys depict that the reason behind it is financial loss, but in the countries like India, there are many issues related to tax and other technical parts that lead to failure in start ups. Looking at this situation, the government of India has launched this start up India Hub in April 2016 to support the emerging entrepreneurs in the nation. It's been quite a long time that the Hub is launched and now it is time to survey the response that the authorities have received in last 3-4 months.
Start up India Hub – Plan and Implementation
Start up India Hub aimed to provide support to the start ups that are facing several issues. The Hub will also help to get the certificate from DIPP to be recognised as the start up in India. According to the plan of the HUB, the authority will take the applicants' complaints and requests regarding start up issues like tax benefits, financial eligibility, certification eligibility, incubation information and much more and will lead to solve the problems witnessed by the start ups today. Also the Hub has requested large companies, state governments, experts and start up scrutinisers to join their hands and become their partners to take the initiative further.
As per the authority the plan has successfully implemented in only 3 months of time. The Hub was launched three modes of communication through which applicants can place their queries regarding their problems. The three ways are direct phone call, via social media and via e-mail. The sources said, within these three months more than 700 applicants have placed their queries under this Hub regarding various issues. Most of them are for the certification process. As of now on an average nearly 200 queries are being recorded per day.
Start up India Hub – Eligibility
To be recognised as a start up one has to have a certificate. A start up under the stand up India scheme can have two certificates one is certification of recognition from DIPP and another from inter-ministry board of DIPP. For some of the benefits such as Intellectual Property Right benefits, discounts, filling IPR and such does not require any special certification from inter-ministry board. The certification of recognition from DIPP will be enough for the start ups to be recognised as a registered start up in India.
Start up India Hub – Measurement
Some of the measurements have been taken to take the initiative forward. These measures were taken in favour of the start ups registered under the stand up India scheme.
Tax benefits: The start ups that will be registered in between 1st April 2016 and 31st March 2019 will get 3 years of Income tax exemption in the block of 5 years.

IPR benefits: a bunch of consultants and experts have been appointed to take care of the IPR filling and related issues. On behalf of the start ups the entire cost of IPR filling will be borne by DIPP only.

AIM: Atal Innovation Mission was launched to establish incubation labs and also develop the existing incubation labs in the country.

Self-certification from CPCB: Pollution control board has given clean cheat to the 36 industries under environment act. Start ups engaged in these 36 'white' industries will get a self-certificate from CPCB.

Funding: The SIDBI will allocate the funding for the start ups. While SIDBI will spread its arms to RBI only, RBI will later on release the funds for investment in the potential start ups.

Mobile app: The start up India Hub mobile app (available in Android and iOS) will make things much easier for the start ups as now they can easily reach to the experts by one tap on their smart phones.
Start up India Hub – Coverage
Since the start up India Hub portal has been launched, total 728 queries have been recorded under the Hub. As per the survey conducted on 18th July 2016, the number of applicants that have already received the certificates from DIPP and recognised as start up is 180. The others didn't fulfil the criteria and so they get the hands on experts' assistant to take things further.
On the other total of 16 start ups have incorporated that are exempted from income tax. Out of these 16 start ups only 3 are being considered for the inter-ministerial board certification from DIPP. Though 2 of these 3 have been cancelled due to improper documentation but remaining one has got the certification properly.
Till now the response seems to be quite positive. As we witness frequently emerging start ups across the country, this start up India Hub has made a lot of dreams true by providing them proper and expert assistant for their start up business.
Start up India Hub – What to expect in future
As mentioned the DIPP has already requested 50 leading companies to join them and develop such hubs for betterment of the start ups. It is not always the initial stage when the entrepreneurs face problems but in every stage of development they might need expert's help. To meet this requirement DIPP is moving forward with these leading industries.

DIPP is also keen to start online learning management system for the start ups and new entrepreneurs to learn more about the ups and downs of the start ups. The learning management system and practical applications will make them more skilful and knowledgeable to meet the global competition.

Also expect state union territories to join hands with DIPP and develop more hubs and institutes to encourage innovative ideas and technologically driven business. Now with such plans people do not need to dig their heads if start ups fail. They will get everything and anything under one roof.
Start up India Hub – points to remember
Eligibility

Certification of recognition from DIPP

Certification of inter-ministerial board of DIPP

Coverage

Till now 728 queries,

180 completion,

16 incorporated with tax benefit,

3 considered to meet inter-ministerial board

Future plans

Learning management system,

state level hubs supervised by state territory officials

Supervised by

Central government

How to reach

dipp-startups@nic.in (email Id)

https://twitter.com/dippgoi (social media link)
Startup India Yatra to get organized in engineering & ploy- technique colleges soon
The Commerce & Industry Ministry has recently organized the Startup India Yatra, which eventually went official on 30th July. The first boot camp was held at Raipur, and the next camp got organized at Bilaspur. The Government Engineering College was chosen as the venue of the Yatra scheme. Further camps will also get organized in other ploy-technique as well as engineering colleges in the recent future. Some of the states where this scheme is set to get introduced are Surguja, Korba, Koria, Raigarh, Rajnandgaon, Jashpur, Balodabazar, Balod, Kondagaon, Durg, Jagdalpur, Dhamtari, Kanker, and Dantewada.
Other Articles